Do You Have a

PLAN

to Survive the Current Hiring Crisis? If Your Answer is "NO," the AUTOMATIC HIRING MACHINE Could Be EXACTLY What You Need for This Reason…
Finding & Hiring Lawn Employees is Brutally Painful:
25% of YOUR TEAM IS BEING ACTIVELY RECRUITED
By the Company Down the Street!
Your Competition is Promising Higher Wages, Better Benefits and BIGGER Opportunities. Without An Effective, FAST and Proven Hiring System,
Your Hands May Be Tied When They Ask for a RAISE, Want Time Off or
Turn in Their 2-Week Notice to QUIT So They Can Go Work for Your Competitor
Dear Landscaping Business Owner,
I know how frustrating it can be to find reliable, hardworking employees during the busy season. And right now it's like the busy season all year 'round!
Here's why…
Unemployment rates are the lowest they've been in 45 years and competition for employees—ESPECIALLY GOOD ONES—is brutal and it's not going to get any better.
There's an Industry Wide SHIFT That Demands IMMEDIATE ATTENTION in Your Lawn or Landscape Business!
Technology has forever changed the way to recruit, find, screen, hire and retain employees. And for an elite group of landscape business owners, finding employees is getting easier! More on this in a moment.
You'll have to embrace this strategy shift or suffer like never before! Whether YOU like technology or not, you COULD be using easy-tech to find and hire people faster, cheaper, with fewer time-sucking interviews and better hiring results. The question is…Will you?
If you're still hiring the old-fashioned way in this industry – posting average ads, asking for resume's or applications, scheduling time-sucking interviews, being stood-up by knuckleheads or being bored to death by unmotivated drop-outs who SAY they want to work…here's what's eventually going to happen…
The large and well-established lawn businesses with over 80 employees have full-time Human Resource Specialists who learn new technology and use it to their advantage in recruiting.  Further…tech savvy youngsters entering the lawn business are quick to learn new technologies.
Facts are facts…and many young entrepreneurs look around at all the businesses they could potentially start and they say to themselves, "Cutting grass, trimming bushes, installing irrigation systems. How hard could that be? I'll start my own business!"
The start-ups recruit a few friends and family members who are entering the workforce or who are disgruntled with their current job.  It's easy to recruit friends and family when a business gets started.  It's an exciting time and the excitement attracts a few workers fast.
You may have found your first few employees like this.  But the friends and family well runs dry pretty quickly.  Soon, you have to look elsewhere for more employees. Which brings us to today…
YOU ARE IN SERIOUS COMPETITION FOR EMPLOYEES!  It ain't getting no easier!!!
This brings me to one more trend happening right now that you need to understand.
Mergers and acquisitions are going on like gangbusters.  The companies who have the best labor forces are being purchased…and their owners are walking away with millions!
These larger companies are using mobile and online technology to streamline processes like staff training, scheduling, marketing, administration, invoicing and…yes…HIRING.
And… you are competing with these big-boys for employees!
Unfortunately for you, these guys have trained employment recruiters who are on the phone, using email, using social media and the Internet to meet your employees and invite them to join the big company…while they're working for you!  (The phone in their pocket is always on.)
The big boys need more employees. And they're going to think that it's easier to hire reliable, hardworking employees trained by YOU than it is to start from scratch.
Where does that leave you and your business if you stick with traditional, slow, stress inducing, tear-your-hair-out hiring practices???
It leaves you feeling beaten-up, frustrated and on the edge of burn-out.
It leaves you lying in the dust, hands tied behind your back, as you watch their landscaping truck wrapped in their beautiful logo driving away filled with your best employees and leaving all the lazy, unreliable ones for you to worry about.
And when you're stuck with lazy, unreliable employees you WILL WORRY about everything…
Are the jobs being done right?
Are they being done at all?
Were they polite to your customers?
Did they get into a fight with their spouse and leave the job site?
Are they napping all afternoon in the truck?
Will they show up for work tomorrow?
Will they do work that keeps customers happy?
And on and on…
Wouldn't you rather be the one with the team of enthusiastic, loyal, trustworthy, hard-working employees? Or at least…the winner with a hiring system that you can turn on or turn off at will?
If you answered YES, then…
A Cutting-Edge Hiring System Is Your Key to Survival
Based on current market conditions and trends, if you don't begin to use technology to support your existing business—especially in the area of hiring—your ability to expand and SURVIVE could dry up and disappear.
It's a sad, frustrating and energy-draining situation for many.
But it doesn't have to be that way for you.
My name is Tony Bass.  I've been hiring employees since 1987.  I've navigated my lawn business, investing activities and manufacturing businesses for more than 30 years through expanding economies and painful recessions.  Along the way I've made millions from landscaping and taken great notes about what works and what don't work when it comes to making a landscape business work.
I'm a systems-thinking guy.  In fact, I've spent over three decades building systems for landscaping businesses, my own…and hundreds of others across the USA.  I'm the co-author of the ultimate systems-thinking book for lawn guys, "The E-Myth Landscape Contractor: Why Most Landscape Companies Don't Work and What to Do About It". This book is being used in landscaping departments in prestigious universities across the USA. We're shaping young minds entering this industry and teaching "systems".
If you've never read my book, you owe it to yourself to study it cover to cover. My co-author, Michael E. Gerber and I, explain how systems-thinking can be the most liberating process to escape the rat race of doing-it, doing-it, doing-it while working endless hours and not getting the financial results you are looking for.
Since we published the book a few years ago, technology has steadily moved ahead.  Today there's advanced employee recruiting methods we did not reveal in the original manuscript.  That's why I'm writing you today.
My team and I have created a step-by-step process that automates:
employee recruiting
collection of resumes
initial screening of applicants
drastically reduces interview time, and
improves the quality of applicants.
We call this online and offline recruiting, screening and hiring system:
The Automatic Hiring Machine
The truth is when you implement a hiring system with just 5 simple parts (that almost no one has figured out and hardly anyone is using), YOU can be the one attracting the best people in your market and leaving all the lazy, unreliable workers for your competition.
Here's the good news:
You don't have to be a "techie" to implement the Automatic Hiring Machine.
It's not hard. You can have it up and running in just 6-7 hours of focused effort.
Almost NO ONE knows about it or is using it so it's working really well.
Most lawn and landscape business owners are too busy or too lazy to learn these simple steps. (This gives you a competitive advantage!)
Once you set it up, your Automatic Hiring Machine will generate and automatically sort through at least 10 TIMES the number of resumes you've ever received before without wasting a minute of your time.
Now… I know this may sound too good to be true.  Especially since you may have trouble finding employees today.  Most landscapers are bitching, complaining and crying about employees.  But a few have learned my new process.  I'd like to teach you how to use it too.
Rather than spending my time telling you that the Automatic Hiring Machine will do amazing things for your business… and eliminate all your worries about the hiring crisis.
I think it's better if I just show you some REAL RESULTS from REAL CLIENTS…
Wouldn't you agree?
Real Stories from REAL CLIENTS Who Are Using the Automatic Hiring Machine and Getting AMAZING Results:

Now you may be excited, thinking, "Wow! That's a lot of resumes!"
You might also be feeling completely overwhelmed, thinking, "Wow! That's A LOT OF RESUMES!"
But that's what makes the Automatic Hiring Machine SO AMAZING! You can generate a massive amount of resumes AND…the Automatic Hiring Machine system screens all your applicants for you.
Here's the problem we are trying to solve…
A lack of good people working in the field, leading your crew or managing customers could be the greatest obstacle to growing revenues and profits.  Heck…a lack of people could jeopardize your ability to fulfill the contracts you've already signed up this year!
The Automatic Hiring Machine doesn't just help you survive. It lets you THRIVE!

I know what you're thinking…and a lot of it is just not true. It all comes down to FACT vs. FICTION:
FICTION: "A system like this would only work for well-established or large companies."  FACT #1:  It's been used by companies with as few as 6 employees up to 50+.
FICTION: "It's got to be complicated."
FACT #2:  It's so much easier than you could ever imagine! And remember, it only takes 6-7 hours of dedicated time to get it up and running.
FICTION: "I don't have time to review 50 let alone 500 resumes!  I'm too busy!"
FACT #3:  The system screens all the applicants for you. All you have to do is review and interview qualified candidates.
FICTION: "I don't have time to interview all those people!"
FACT #4:  The Automatic Hiring Machine includes a proven script that lets you interview each candidate in just 10 minutes OR LESS.
FICTION: "I already have my crew this year."
FACT #5:  ..but you'll need more people soon if you want to keep growing or replace the ones who will be quitting soon. This system will work for you for years and years to come!
Between business growth and employee turnover, HIRING NEVER STOPS!
So it's best to be able to hire at will like this guy did…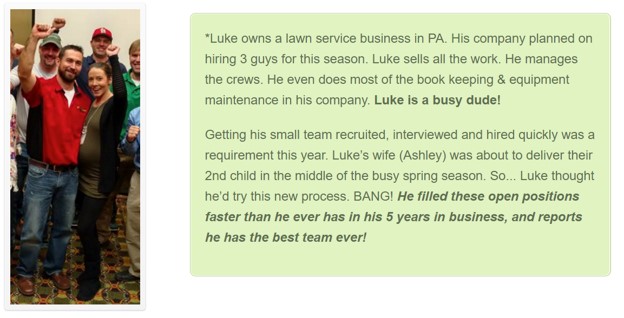 This is a carefully designed, step-by-step process, that makes finding, screening and hiring easy.
Here's What You Get with the Automatic Hiring Machine
First of all, you get the confidence that comes with automating your ENTIRE employee recruiting and screening process!
Imagine how confident you'll feel the next time an employee walks up to you asking for a raise and you say, "NOPE.  I've got 3-4 people right now I can hire for less than what you're making."
Or another turns in their 2-week notice to quit (yep – good people still do that) and you say, "No big deal. I've got qualified employment prospects ready for fast-hire."
You'll be in complete control, acting in total confidence because YOU KNOW…
…you'll be able to turn ON your Automatic Hiring Machine with a few keystrokes.
You'll NEVER feel like you're being held hostage by employees again!
That's the BEST part. But let's take a look at a breakdown of everything that comes your way as soon as you purchase online… www.automatichiringmachine.com
When you invest in the Automatic Hiring Machine, you'll have immediate access to:
7 proven recruiting ads you can use right away that generate 3x to 10x more applicants
14 different locations to place your ads – including step-by-step instructions – targeting highly qualified employment candidates often overlooked by outdated processes
The "Automatic Hiring Machine 11-Step Start Up Guidebook" that gives you detailed, step-by-step instructions to help you get up and running FAST
ALL the training you'll need via 8 online videos PLUS written instructions to teach you how to build your Automatic Hiring Machine in just 6-7 hours of focused, uninterrupted time
An automatic, systematized, candidate screening process that kicks unqualified applicants to the curb without stealing ONE minute of your time
A time-and-money-saving, expertly crafted 10-minute phone interview script that dramatically reduces bad hires and lets you interview pre-screened applicants over the phone avoiding the time-sucking in-person interviews, annoying no-shows and over-priced job jumpers
Access to the ONE SIMPLE PHONE INTERVIEW QUESTION that typically saves employers (just like you) $2,000 to $6,000 per year per employee hired.
A step-by-step method that transforms the old-school interviewing process into a frenzied competition to join your company
Well-organized, 24-hour online access via phone, tablet or PC to case study interviews of our students using this system so you hear in their words how this is working for them
Access to future updates, refinements or enhancements to this process as we test, test and test again what's working via our active members for 12 full months
When you sign up, you gain IMMEDIATE ONLINE ACCESS to all of this and more right away when you join the ranks of other savvy landscape business owners who have invested in the Automatic Hiring Machine. Go to www.automatichiringmachine.com and look for the BUY NOW button.
But wait…I've got to tell you about 3 HUGE BONUSES you don't want to miss out on…
3 HUGE Bonus Items FREE with Your Purchase of the Automatic Hiring Machine Training System
Bonus #1: Exclusive Interview with Roger Braswell ($197 Value)
I recently interviewed Roger Braswell – CEO & Founder of Compact Power – who operates over 1000 tool rental centers across the US & Canada. I had him review & comment on my process (the Automatic Hiring Machine) AND explain in detail how his company hires more than 100 people per year as they grow towards 1200 locations. The interview alone is worth the small investment to gain access to the Automatic Hiring Machine training.
Special Update: In July of 2017, Roger sold his business for $265,000,000 to the Fortune 500 company named Home Depot.  Do you think picking Roger's brain about hiring would be a good investment of your time?  You betcha!
And if you think you've tried everything like placing ads, posting on social media and using the (very unstable) H2B program, I've got to say, "You ain't seen nothin' yet!" When you hear the interview – you'll learn to think differently about your potential to recruit super-star employees. You'll STOP using outdated hiring methods that don't work the way you want them to. And you'll START attracting loads of quality leads that allow you to hire as well as or even better than big players like Compact Power.
Bonus #2: "Talking Money with Employees" Online Training ($197 Value)
There's better than a 50% chance that one of your employees will quit your company in the next 30 days.  But did you know this can be stopped simply by talking about money with your employees at FOUR SPECIFIC TIMES during their employment with you? It's true!
You may be thinking, "How can just talking about money keep people from walking out on me?" Well ask yourself this: How often are you talking about money with your employees? If you're like most people, your answer is "almost never." And I'm not just talking about wages. Do you talk to them about YOUR COMPANY'S MONEY? Probably not.
Failure to talk about money—yours and theirs—is nothing but a recipe for frustration and disappointment that leads them to eventually walk out on you.
I promise you that if you follow the advice I share with you in my online training program "Talking Money with Employees" you'll stop your best employees from walking out the door and massively reduce your employee turnover rate.
Bonus #3:  Two Months FREE Membership in My "Super Lawn Toolkit" Coaching and Training Program SILVER LEVEL ($147/mo x 2 months = $294 Value)
We meet online every-other Friday (excluding holidays) to coach our students.  If you've got questions about implementing ANY portion of the Automatic Hiring Machine, we are standing by to help you.
You simply block out 60-90 minutes to work ON your business every-other week.  If you have a question, jump online and ask. If you have something you want us to review, we'll "share your screen" and give you instant feedback.  You'll get to listen in as others work ON their businesses as well. You'll love it!
The Silver Level includes ALL these benefits, which you will enjoy FREE for two full months when you invest in the Automatic Hiring Machine:
Monthly Newsletter Service so you can easily keep in touch with your customers
Weekly e-mail tips to help you stay motivated to get your Automatic Hiring Machine process fully-implemented inside your company
Bi-weekly Calls/Group Coaching including training to address cutting edge industry trends so you can stay ahead of the competition
Continue your education for just $297 per month and get access to private coaching calls, discounts for live training events and more. Cancel anytime…but I doubt you will. Getting yourself a coach may be the best thing you could do help you stay motivated, avoid mistakes and grow profits!
You might be concerned that you won't implement what you learn. But if you get on the coaching calls, ask your questions, and let us work through the problems that are plaguing your business, you'll definitely make progress.
I'm telling you, as with any system designed to grow your business, you've got to commit to participate. Call in. Ask questions. Get coached. And you'll see results!
So let's look at EVERYTHING you're going to get…
The Automatic Hiring Machine Package Offered to You Right Now Exclusively Includes:
The Automatic Hiring Machine                                           = $1,997 Value
Bonus #1:  Interview with Roger Braswell                         = $197 Value
Bonus #2:  Talking Money with Employees                      = $197 Value
Bonus #3:  Two Months FREE Silver Membership           = $294 Value
Total Value =  $2685.00!!!
Now obviously I'm not going to charge you $2,685.
But if I DID charge you $2,685 and all you got was the ability to rake in 10 times more the number of qualified resumes than you've EVER received before, would that be worth it?
If all it did was ensure top quality leads and applicants are automatically sorted for you, would that be worth it?
If all it did was keep your best employees staying with you longer (because you know how to talk to them about money at all the right times), would THAT be worth it?
You can probably see why most of my clients gladly pay $1,997 for this training…because it's not a cost—it's an INVESTMENT in YOUR BUSINESS EDUCATION.
You've already seen that this package is worth $2,685…and even MORE when it's fully implemented in your business.
And even at $1,997—which is the price we'll be raising it to after our first 30 spots are filled—it's still a great deal. But because we're just beginning to share this system with a few select business owners at a time, I'm extending this special offer…
You'll receive The Automatic Hiring Machine and all three bonuses for just $997.
Now let me put this $997 investment into perspective…
Let's say you're fed up with trying to hire people, so you go to a temp agency. The temp agency is going to charge you 30% to 40% OVER THE ADVERTISED PAY RATE! So if you normally pay your people $15/hour, you're going to be paying the temp agency $20 or MORE.
THAT COSTS YOU $6,000 MORE PER YEAR PER EMPLOYEE.
OR…let's say you skip the temp agency and hire a recruiter to find the best employees for you. A recruiter is going to charge you 10% of the employee's annual salary. That's $3,000 to recruit one employee for a $30,000 position or $6,000 for a $60,000 position.
When you can spend $997 and save $3,000 to $6,000 or more, it's a good investment, right?
But the best part is really simple.  Once we teach you how to use this step-by-step recruiting, screening and hiring process you'll be empowered to grow your business more than ever!
Purchase access to the Automatic Hiring Machine Training Program and You'll be equipped with the tools to get better employees so you can take time off or choose to work on other areas of your business to improve them as well.  Get it right now at: www.automatichiringmachine.com . Just $997 today.
You Have Two Choices – But Only One Choice Makes Sense…
So at this point, you have two choices…
You can do nothing. Just keep complaining about bad employees, working long hours and missing time with your family.
OR – the smart choice. You can take the Automatic Hiring Machine for a test drive and see if it works for you
If you implement the system and it doesn't work, you have absolutely nothing to lose…
Here's my Fast Action Guarantee
Purchase this training and implement the Automatic Hiring Machine as we teach it within 60 days of your purchase. If you don't get the results you need, we will refund your purchase. The refund is subject to our review and verification that you follow the instructions provided.
So just to recap, you'll receive all this…
The Automatic Hiring Machine                                   = $1,997 Value
Bonus #1:  Interview with Roger Braswell                  = $197 Value
Bonus #2:  Talking Money with Employees               = $197 Value
Bonus #3:  Two Months FREE Silver Membership    = $294 Value
A Total Value of $2685.00 All for Just $997
The Real Question is this…
Is it worth taking the Automatic Hiring Machine for a test drive?
Even if it only does HALF of what I claim it does:
It would pay for itself as soon as you hire your next 1-2 employees
It would turn your traditional, slow, stress inducing, tear-your-hair-out hiring process into a well-oiled hiring machine
It would position your company to grow and expand because you have a never-ending supply of great people to hire
Are you ready to build your own Automatic Hiring Machine? Fill out and return the enclosed order form today or go to www.AutomaticHiringMachine.com right now to purchase online.
As I said, we're sending this offer out to just a few select business owners at a time.
Once we sell 30 more packages, the price will be going up!
Don't wait until the slots are filled and find out that the price has gone up by 50%, 100% or even more. Get your training started right now.  www.automatichiringmachine.com
The sooner you get your Automatic Hiring Machine up and running, the sooner your business will be:
Overflowing with qualified employment leads whenever you need them
Current with emerging trends in hiring technology
Competitive with local businesses big and small, new and established
Desired as the job-seeker's first and best choice of employers to work for
Secure in the fact that employees are more loyal, stay longer, and understand where they stand when it comes to their money and yours
My Fast Action Guarantee ensures you have nothing to lose. Take the Automatic Hiring Machine for a test drive. If you follow the implementation steps and it doesn't work for you, we'll refund 100% of your money.
Get started today. Fill out the "Automatic Hiring Machine" Transformation Acceptance Form now or go to www.AutomaticHiringMachine.com.
To Your Success,
Tony Bass
Tony Bass, Founder and Creator of the "Super Lawn Toolkit" Business Building Program and Mentor to over 300 Growth-Minded Lawn and Landscape Business Owners
P.S. If you and I haven't met and you're wondering if I can really help you find incredible employees automatically, just go to www.AutomaticHiringMachine.com and order immediate access.
Beating your competitors to this information could be a game changer for you. The decision you make right now WILL change your business forever. Take action or do nothing. The choice—and your future results—is up to you.
P.P.S. If you skipped reading the letter above, but you need more employees OR better employees in your lawn or landscape company, go to www.AutomaticHiringMachine.com
I recorded a detailed video that explains the current employment situation in the USA and what you can do to attract hundreds of applicants, screen them automatically without wasting a minute of your time, create a 10-minute phone interview process, greatly improve the quality of applicants and hire the best even when other landscapers think that finding good employees is impossible.
I'm looking forward to working with you to improve your employee recruiting and hiring process.  Tony Bass
Lawn and Landscape Business Owners Make Hiring Fast and Easy!
Watch the Video and Learn How
To Become a Confident Employer
(866) 923-0027

Having trouble  finding, recruiting, and hiring landscape employees? Watch the video!
Request access to case
studies and learn more! Free!