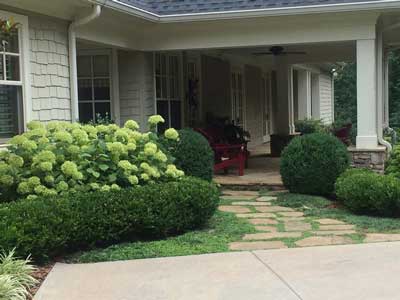 Year Founded: 2008
Owner: Brian Patterson
Employees: 11
Service Mix: 66% design/build, 34% maintenance
Client Type: Second-home residential, one large POA (property owners association)
Brian Patterson started his landscaping company in 2001. After leaving the industry for a few years, he relaunched and incorporated Trophy Landscape in 2008. Over the next 10 years, he built his operating systems, client base and sales revenue. The one thing that continued to frustrate him was an inability to find employees who could live up to the high standards he'd set for his company.
"In construction-type industries, including landscaping, the pool of employees tends to be a bit rough—especially at the technician level," Patterson says. "We like to employ people with strong dependability, appearance, work ethic and job history."
In late 2018, things reached a boiling point for Patterson. He turned to his trusted business adviser, Tony Bass, to learn more about the Automatic Hiring Machine.
The first change Patterson implemented was how he structured his job ads. Rather than focus on basic things like pay range and required experience, Patterson began emphasizing the benefits of working for his company. He also began probing for the skills, traits and characteristics he likes to see in his employees.
Patterson also changed the ad headlines so they weren't so landscaping-specific. The goal was to attract candidates from outside the industry who weren't quite as rough around the edges.
"One headline had to do with getting a fresh start working outdoors," Patterson says. "We noticed an immediate change in the type of person applying in terms of their education, work history, appearance and professionalism. We did four rounds of hiring this year (2019) and the result was the same every time. It was clear that we were drawing people from other occupations."
One new hire is a woman previously working as a horse stable manager. She has a degree in environmental science and has also taken some courses in landscape design and horticulture. "She actually became one of our crew leaders in a short period of time," Patterson says. "She is always upbeat and the team loves her."
Another new hire was working for a property owners association. He didn't have much room for growth there and was looking for a better opportunity. "We hired him, and in a few months he took over another one of our crews," Patterson says. "He has also accepted responsibility for our in-house training program. He has been another great addition to the team."
As this new supply of job applications came rolling in, Patterson had to figure out a way to process them. This is where the Automatic Hiring Machine has really made an impact.
"I thought about what I'd been asking people when I'd interviewed them," Patterson relates. "I had been using the same six interview questions for a long time. I realized that if I standardized those questions, I could pass these initial candidates off to my office manager. Those questions are now asked over the phone. This saves a lot of time by not having to bring every prospect into the office so I can talk to them myself. These six questions help screen them."
Once that initial phone screening is conducted, the final candidates are brought into the office for an in-person interview. "We stack the interviews right on top of each other so we can do them all in a day or two," Patterson says. "This also creates a bit of competition because three or four candidates are sitting at a table together filling out their applications."
Thanks to the Automatic Hiring Machine, Patterson has more confidence in his ability to add employees when he needs them. "There is a little more turnover at the landscape technician level, naturally. But now we can hire more quickly, and it's a lot less time-consuming for me and my staff," Patterson says.
Learn the most about the Automatic Hiring Machine! Join Tony's WEBINAR!
Lawn and Landscape Business Owners Make Hiring Fast and Easy!
Watch the Video and Learn How
To Become a Confident Employer
(866) 923-0027

Having trouble  finding, recruiting, and hiring landscape employees? Watch the video!
Request access to case
studies and learn more! Free!